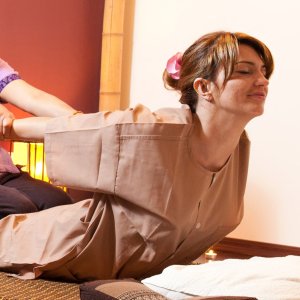 Znany również jako masaż klasyczny. Jest to intensywny i głęboki masaż wykonywany najczęściej na podłodze i zawsze w wygodnym ubraniu. W tradycyjnym masażu tajskim uciskane są określone punkty na całym ciele poczynając od stóp i kończąc na głowie. Jest to technika która łączy głęboką akupresurę najistotniejszych punktów ciała z elementami jogi. Masaż ten, w Tajlandii uznawany jako masaż leczniczy, pozwala na rozładowanie napięcia mięśni i stawów. Pobudza również układ krwionośny i limfowy co pomaga przywrócić równowagę organizmu.
Od wielu lat uważany za masaż leczniczy. Znajdzie zastosowanie w schorzeniach kręgosłupa oraz mięśni okołokręgosłupowych przywracając ich prawidłowe napięcie. Uelastyczni stawy zapewniając im odpowiednią ruchomość. Przyśpieszy procesy regeneracji.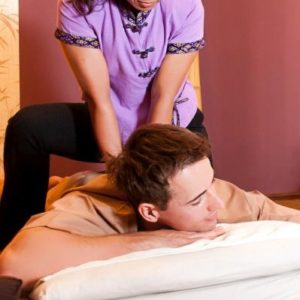 MASAŻ GŁOWA, RAMIONA I PLECY
Rodzaj klasycznego masażu tajskiego obejmującego górną partię ciała. Specjalne ziołowe maści używane podczas zabiegu pomagają zmniejszyć bóle kręgosłupa oraz odprężyć się. Szczególnie polecany osobom prowadzącym siedzący tryb życia, cierpiącym na przewlekłe bóle pleców oraz migreny. 
Uwaga skupiona na ciele od pasa w górę. Masaż leczniczy, który uelastyczni stawy zapewniając im odpowiednią ruchomość. Przyspieszy procesy regeneracji.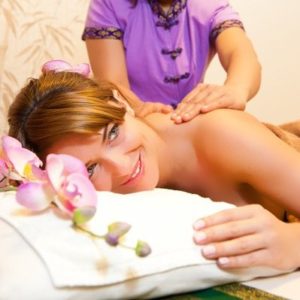 relaksuje i uwalnia od stresu
MASAŻ TAJSKI OLEJKAMI AROMATYCZNYMI
Mniej intensywny niż klasyczny i bardziej relaksujący masaż wykonywany z użyciem olejków aromatycznych. Technika akupresury z połączeniem masażu ajurwedycznego relaksuje, uwalnia od stresu oraz poprawia samopoczucie. Masaż tajski olejkami aromatycznymi uśmierza ból ramion, karku, szyi, pleców i nóg. Zabieg ten usprawnia układ odpornościowy i nerwowy a także poprzez stymulowanie porów skórnych wspiera proces wydalania nadmiaru wody z organizmu. Masaż tajski olejkowy jest również wykonywany za pomocą gorącego olejku kokosowego w cenie 190 zł / 1h.
Poprzez pocieranie, drogocenny olejek wnika w głąb skóry co przyspiesza wydalanie nadmiaru wody z organizmu oraz stymuluje pory skórne. Reguluje zaburzenia związane z krążeniem krwi i limfy, zwalcza schorzenia narządów wewnętrznych a także niweluje nagromadzone w toksyn w organizmie.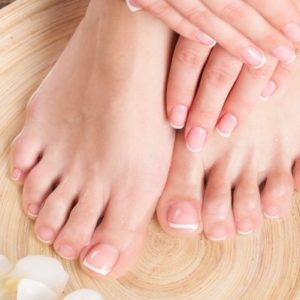 pozytywnie wpływa na system krwionośny
TAJSKI MASAŻ STÓP - REFLEKSOTERAPIA
Leczniczy masaż będący połączenie akupresury i ajurwedy. Poprzez uciskanie stref refleksologicznych na stopach niweluje uczucie "ciężkich nóg", wspomaga odtruwanie organizmu z toksyn, poprawia sen i samopoczucie. Masaż obejmuje m.in. masaż podeszwy, grzbietu stopy, palców, kostek, łydek, okolic kolana.
Obejmuje między innymi masaż podeszwy oraz grzbietu stopy, palców, kostek, łydek, aż do okolic kolan. Odtruwa organizm, usprawnia procesy trawienne. reguluje układ hormonalny. Niweluje bóle mięśniowe, reumatyczne. Działa przeciwbakteryjnie i przeciwwirusowo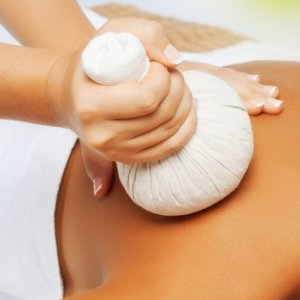 MASAŻ TAJSKI GORĄCYMI STEMPLAMI ZIOŁOWYMI
Masaż stemplami ziołowymi wywodzi się z Dalekiego Wschodu, a dokładnie z tajskiej szkoły masażu. Zgodnie z dawną tradycją, w stemplach tajskiej receptury znajduje się mieszanka leczniczych ziół, m. in. kurkuma, trawa cytrynowa, cynamon, imbir oraz kamfora. Wszystkie te substancje zawijane są w bawełniane woreczki, które po wstępnym namoczeniu podgrzewane są do wysokiej temperatury i stosowane w masażu ciała. Niesamowicie przyjemny i uwielbiany masaż, dzięki swoim walorom terapeutycznym.
Zmniejszają obrzęki, są również świetnym sposobem na zapobieganie rozwinięciu się przeziębienia. Działają przeciw utleniająco, likwidując wolne rodniki.
Zapobiegają łuszczeniu się skóry oraz wzmacniają odporność
| | |
| --- | --- |
| Tradycyjny Masaż Tajski + Masaż Olejkami Aromatycznymi | |
| Tradycyjny Masaż Tajski + Masaż Gorącym Olejkiem Kokosowym | |
| Tradycyjny Masaż Tajski + Masaż Stóp (Refleksoterapia) | |
| Masaż Olejkami Aromatycznymi + Masaż Stóp | |